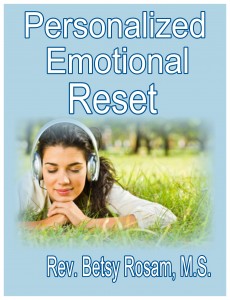 Personalized Emotional Reset
By Rev. Betsy Rosam, M.S.
Betsy will personally assess your needs through a conversation, spend time in research determining what specifically is beneficial to you, and personally record your unique Emotional Reset and download it as an MP3. Betsy has been known to have wonderful meditations, her clients have said that her meditations are soothing, and relaxing and that her voice is calming. 
This personalized meditative download includes the following:
15 minute needs assessment (by phone)

10-15 minutes of guided meditation

 

inclusive of Meridian Tapping, Advanced

PSYCH-K©, and Visualizations, designed

 

personally for you

MP3 Download that can be utilized anytime

by computer, tablet, or smartphone
Valued at $400
On Sale for $200
Sign up for yours today, so that we can schedule your appointment for the assessment. (This process will take a week from the date of the assessment, as it is unique to each individual, recorded specifically for the clients needs.)