Are you at a crossroads, feeling there's got to be more? In fact you know there's more. Do you find you are not manifesting your dreams and visions? Have you created vision boards that are not giving you the results you thought they should?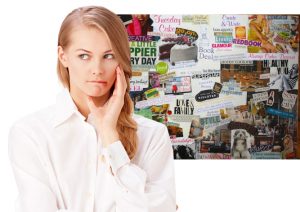 Join me on Saturday, February 2, 
9:30a.m – 4:30p.m. in Boynton Beach for The Soulful Collage Workshop
an intimate workshop and transformational process that reveals your soul's purpose and your true calling, utilizing that information to manifest your dreams and visions.
We seem to be so busy with our everyday lives, we don't think about who we are. Many times, I ask my clients to list words that describe who they are and they come up blank, or with very few words. When we know who we truly are, we can co-create from that place. We create more from who we are, not just from what we want. You will clear the blocks, eliminate the confusion, and leave feeling energized and inspired for taking action in your life for clear direction for what's next.  
Register today and save your seat
ONLY $79.00 Valued at $237.00
(Includes all supplies and lunch).
About your facilitator: Betsy Rosam, M.S. is an Amazon #1 Best Selling Author, Certified Speaker, and an Expert Energy Psychology Counselor that works with people to switch their self talk that no longer serves them to language and thoughts that propel them to have more successful and richer lives. She uses her expertise and skills as a counselor to help her clients make life altering, permanent changes in a quick, and easy way. Betsy has a whole tool box full of useful skills that she uses to help you change any limiting beliefs that may have been programmed into your subconscious along the way of your life's journey. Betsy is a Reiki 2 Practitioner, Certified EFT(Emotional Freedom Technique) Meridian Tapping Practitioner, Advanced PSYCH-K© Facilitator and ThetaHealing©Practitioner. After retiring from 20 years teaching Middle School Home Economics, Personal Development and Peer Counseling, Betsy received her Masters Degree in Mental Health Counseling from Nova Southeastern University. And now holds a Ministerial License  Universal Life Church.