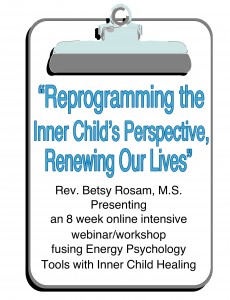 "Reprogramming the Inner Child's Perspective,
Renewing Our Lives!"
If you are struggling with any of the following issues:
Intimacy & trust

Setting boundaries & codependency

Setting, accomplishing goals, and/or financial stability

Public speaking and social anxiety

Controlling, or critical and argumentative behaviors

Communication & relationships

Unhealthy habits: eating, smoking, lack of exercise

Time Management & Organization

You are stuck in a rut and not sure what's going on, or how to make permanent changes

*Many other issues
This workshop is for you!
Our subconscious mind was programmed when we were children, and as we grow up, these habits are difficult to break. Our daily habits are controlled 95% of the time by our subconscious mind and only 5% of our conscious mind. This is why we sometimes struggle to meet a goal, or make real permanent change in our lives.
Many years ago I took an Inner Child Workshop and felt I had made significant changes in my life. Later I discovered that I had only scratched the surface of the changes I needed to make in order to create the life of my dreams. This is when I discovered Energy Psychology and applied it to my life. My life changed! I ended a long relationship that no longer worked, completed my Masters Degree in Mental Health Counseling with a 3.98 GPA, attracted the perfect relationship for me, created a career and business I love, wrote and published my first book, and bought my dream home!
During this time, while working with clients, I discovered that I could combine the Inner Child Work I had done with Energy Psychology, and BINGO, it changed everything! I have done this workshop in a live setting successfully and decided it was time to offer it via an online class, so that it was available to anyone that wanted to participate.
In this workshop, we will be using Meridian Tapping, as we travel through time, exploring those Developmental Stages and the tasks associated with learning in regards to emotional and social development during your early years. Changing the limiting beliefs that your Inner Child chose to hang onto, into more productive, creative beliefs that bring you to a more successful happy meaningful life. Meridian Tapping is a type of energy psychology that you "tap" on meridian/ accupuncture points, shifting energy and creating emotional relief. We will be using several different types of Energy Psychology tools to change those habits that keep you from being your best. This workshop empowers you for future self care in any situations that arise. Are you ready to install your "Easy Button" in your life?
Release that which is holding you back! It's time to become the person you were always meant to be. Now is the time to get rid of those limiting thoughts and beliefs that end up sabotaging your successes. This class will be given as an 8 week on-line workshop that is recorded in case you miss any of them. 
Sign up today and you will get:
facilitated by Betsy Rosam, M.S., an expert with an M.S. in Mental Health Counseling, and certificates in EFT and Advanced Psych-K©

Printed checklists and additional information for personal use in an e-workbook

10% discount on private sessions by Betsy Rosam, M.S.

Downloadable modules
All this valued at $597.00
Today's sale price is:
$197.00 for the 8 week online workshop
[FYI:  WIKipedia states: "Inner child is a concept used in popular psychology and Analytical psychology to denote the childlike aspect of a person's psyche, especially when viewed as an independent entity. Frequently, the term is used to address subjective childhood experiences and the remaining effects of one's childhood. The inner child also refers to all of the emotional memory and experiences stored in the brain from earliest memory. The Twelve-step program recovery movement considers healing the inner child to be one of the essential stages in recovery from addiction, abuse, trauma, or post-traumatic stress disorder. In the 1970s, the inner child concept emerged alongside the clinical concept of codependency (first called Adult Children of Alcoholics Syndrome.)"]