Total Life Transformational Plans:
You will get individual attention and direction in how to utilize the variety of tools she has to offer. Betsy has been helping and supporting others for over 23 years.  You will experience a definite permanent change in your life, in an easy simple manner.
Click Here for More Information…
---
"OMG! I Did It Again!

 
Do you find yourself saying this? You can't believe you did "it" again? You are trying to make a change and it seems to work for a while, but then you go back to the way you use to be. Do you wonder why affirmations aren't working, or why you seem stuck and are struggling with making positive changes in your life? I have the secret to "the secret".
Click Here for More Information…
---
                  What's Holding You Back? Release It, Let Go!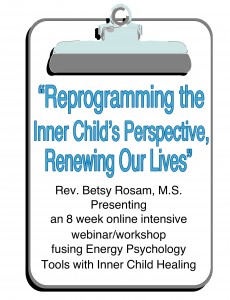 "Reprogramming the Inner Child, Renewing Our Lives"
In this online workshop, we will be using Meridian Tapping, as we travel through time, exploring those Developmental Stages and the tasks associated with learning in regards to emotional and social development during your early years. Changing the limiting beliefs that your Inner Child chose to hang onto, into more productive, creative beliefs that bring you to a more successful happy meaningful life. Meridian Tapping is a type of energy psychology that you "tap" on meridian/ acupuncture points, shifting energy and creating emotional relief. We will be using several different types of Energy Psychology tools to change those habits that keep you from being your best. This workshop empowers you for future self-care in any situations that arise. Are you ready to install your "Easy Button" in your life?